K2 Insider Conference 2009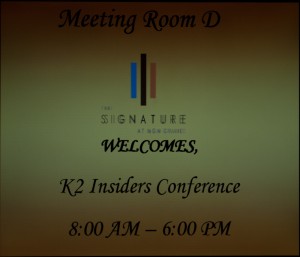 Last weekend was the K2 insider Conference in Las Vegas. They neatly planned it just before the SharePoint Conference to make it more easy for us to come over. This post will not cover a lot of info that's been said at the conference, some of it is even under NDA, so I'm simply not allowed to blog about, which is a shame, as I can't wait to get all those new bits!
Start of the conference
Chris Geier kicked of the conference by an introduction round and checking what everybody wants to get out of this conference, most of the insiders want to see the new bits and talk about issues that they had in their projects.
After that it was Adriaan van Wyk to explain how they are handling the economical situation in the world. In general K2 is doing very well and handling the situation as they should be, which reassures me in the future of K2.
After this all, Adriaan gave us a overview of how they set out to build K2 blackpearl and how a lot of functionality is in the platform but not exposed via UI since they simply didn't have the time and resource to do so, a good example of that is the Event Bus. It also shows why SmartObjects are so important and why they re-engineered a lot of the SmartObject code to make it perform better and really start using it as a way to surface and manage data around the processes.
Other good news is that K2 blackpoint and K2 blackpearl are now based on the same code-base and upgrades will be released at the same day.
Next K2 release
In the next release there's been loads of work done to make installation easier. A lot of support tickets within K2 are based around infrastructure problems like Kerberos. With the new installer (which merges installation and configuration wizards), there's an environment checker that checks your settings and sometimes automatically repairs them. The new installer also allows for unattended installations. Together this allows for super easy installation and checking if the Kerberos environment is configured correctly.
K2 designer for SharePoint
Also in the next release is a the new K2 designer of SharePoint. This basically is the Silverlight designer but is redesigned and made better, with one of the key features being inline functions and SmartObject filtering. Next to that, there's new wizards available to allow you to do more with the designer.
The K2 designer for SharePoint has also been enhanced, concepts as loops are available, this might seem a simple item, but you'll be amazed on how many workflow products do not support a loop/loopback.
Again, people will wonder it a Silverlight designer can bring enough functionality. If it does not, you can simply export the process and continue working on it in K2 blackpoint, and if that's not enough, you can go to K2 blackpearl.
Inline Functions
Another new feature in the next release is Inline functions. It might not say a lot by the name, but it basically means that on every entry-field on a K2 wizard you're able to use functions - all without code. What kind of functions? A lot. Think about math functions, expressions, string functions (like left, right, padding, etc), and much, much more. Now if you do think you can find a function that's not available, you can simply create it yourself.
Inline Functions allow for less use of code within K2 processes, which is important for the K2 designer for SharePoint and K2 blackpoint, as there's no code available.
To make it a bit more clear, here's a screenshot: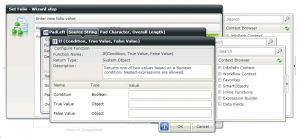 Screenshot of an inline function (complex)
I'll also try to create another blogpost on InLine functions to explain them better.
Performance and stability enhancements
Apart from new functionality, Koos Du Preez also had a talk on the performance enhancements made to the K2 server. In the past, there have been some problems with the Worklist performance, I can assure you, those days are over.
The performance of SmartObjects and the ADO.net provider has also been reviewed and improved. Some service brokers are now able to directly call the backend, eliminating a lot of overhead. Aside from that, a double buffer system is made so the SmartObject readers are way faster, sometimes even faster than calling the SQL Table directly.
Conclusion
The days flew by and where packed with info, the above article is just the tip of the K2 mountain. Can't wait to go ahead and work with those new bits and see the product improve and improve.